Campaign Coordinator - RSSP
Hiring Manager: RSSP Team
Location: London

Please note that this role is London-based and subject to security clearance

If you'd like to have a confidential conversation about this role, please email apply@penna.com
About the role
Brief
We're Penna. We help our clients find, excite and secure the right talent.
We've recently won a new seven-year contract to deliver all permanent recruitment for a prestigious government department. We are expanding our delivery team in anticipation of this new work.
As a Campaign Coordinator for us, you'll work within our Recruitment Services Strategic Partnership (RSSP) Delivery Team. You will coordinate recruitment campaigns using an Application Tracking System (ATS) whilst ensuring candidates have a great experience throughout the recruitment process, as well as meeting our client's hiring and diversity targets.
And in return, you'll work with a friendly, supportive team and enjoy all the benefits you'd expect from an organisation with a global network.
Role Purpose
Responsible for processing candidates through relevant recruitment stages on allocated campaigns, ensuring work is completed accurately and in a cost-effective manner, while creating a positive experience for candidates.
This involves:
Providing office-based support for the Candidate Experience Manager to meet the needs of the client.
Dealing directly with the client to answer queries and provide insight into campaign performance.
Engaging with candidates via phone and email to support them through the recruitment process.
Candidate screening to specific given criteria.
Undertaking all other reasonable tasks as directed by the Candidate Experience Manager or Team Leader.
Liaising with internal and external teams of Assessment professionals to ensure best quality candidate service.
What you'll do
Key Accountabilities & Responsibilities
Operational Activity
Coordinate your own recruitment campaigns, as instructed by the Candidate Experience Manager, processing candidates through the recruitment stages (e.g. CV sift, online tests and interviews) using the Application Tracking System (ATS).
Work accurately and independently, planning your own time to ensure key campaign deadlines are met, and candidates are progressed quickly and efficiently, working with other team members (such as CV screeners and assessors) to ensure resource is in place when required.
Ensure candidates are managed in a fair and honest manner, in accordance with all legislation, best practices, and Penna guidelines. Provide a great candidate experience to all applicants, answering phone and email queries according to service level agreements to support candidates throughout the application process.
Knowledge Management
Have an inquisitive attitude to learning, continuously building your knowledge of recruitment practices, diversity and inclusion and candidate experience strategy.
Client and Internal Relationship Management
Establish and maintain positive relationships with clients and the internal RSSP team, providing recommendations and analysis when appropriate on campaign performance.
Team Working
Be an active team member, positively contributing to the smooth running of the office and business.
Strive to build positive relationships with colleagues that will help them support you in the delivery of client solutions.
A typical week might be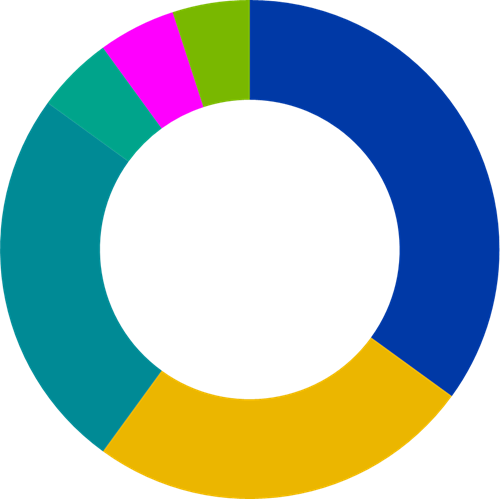 Operational Campaign Delivery (35%)
Candidate Contact and Support (25%)
Client Management (25%)
Reporting and Data Analysis (5%)
Quality Assurance (5%)
Learning and Development (5%)
Key relationships
| Persons / Communities | Nature of relationship |
| --- | --- |
| Team Manager | Line Manager |
| Candidate Experience Manager | Senior Team Manager |
| Candidate Administrator | Administrative support. You will delegate and provide light supervision to administrators in your team, to ensure work delegated is completed on time |
| RSSP Wider Team | Various - client managers, strategy professionals, diversity and inclusion specialists, and more. You will work with and provide campaign information to a wide range of team members who all work with the same clients |
| Clients | Recruitment partner. You will work in partnership with clients to achieve shared recruitment goals, keeping them updated and included on decisions and progress throughout your campaigns |
Personal attributes, skills, knowledge, and experience
Experience in a process-driven environment (recruitment experience is not essential)
Excellent communication skills – both written and verbal
Demonstrable high standards of accuracy and attention to detail
Excellent project planning and organisational skills
Good knowledge of Microsoft Office suite (Outlook, Word, Excel, PowerPoint) and ability to learn new computer systems
GCSEs or equivalent including Maths and English
Penna's Commitment
We are a family at Penna and Stafford Long and believe in fairness and equality across all approaches to recruitment, development, opportunity, and responsibility.
Diversity Promise
Our promise is to organise our services in a way that is universally accessible and useful for everyone. To do that well, we believe we need to create and sustain a workforce that's more representative of the candidates and clients we serve.
Penna is committed to creating a diverse and inclusive workforce that respects and embraces difference. Our employees and our company thrive when we get this right. We aim to create a workplace that celebrates the diversity of our employees, clients, and the contractors we work with. We will endeavour to create recruitment solutions that work for everyone by including perspectives from backgrounds that vary by race, ethnicity, social background, religion, gender, age, disability, sexual orientation and national origin.
Our internal programmes and external work with our clients make us proud to be an Equal Opportunity and Inclusive Employer.
If you have a disability or health condition that requires accommodation or reasonable adjustments made during the recruitment process, please let us know by emailing people@penna.com. 
Our full guidance and commitment to your application and how we may use your personal information during the application process can be found here: https://www.penna.com/candidate-care/ and https://www.penna.com/privacy-policy
Together we are better, together we are Penna.
Penna Behaviours
We all aspire and work towards demonstrating the behaviours consistent with the Family values; Accountable, Supportive, Collaborative and Inspiring as listed below:
Values

Details

ACCOUNTABLE

Does what they say they will do

Builds open, honest and realistic relationships with customers and colleagues
Reliable and acts with integrity
Determined and passionate about delivery of the best
Accountable and inclusive

SUPPORTIVE

Creates an environment where people can give of their best

Seeks to understand the needs and concerns of others
Creates a learning environment
Seeks feedback from other in order to learn and develop
Inspires others to achieve their goals

COLLABORATIVE

Works as part of one team

Pulls together to put the customer first
Support colleagues without waiting to be asked
Helps others succeed and celebrate their success
Actively looks to break down barriers and finds ways to work together

INSPIRING

Creates new possibilities

Comes to work to make a difference, sets high goals and gives 100% personal energy
Believes in what we do and demonstrates this through actions
Regularly challenges thinking and is open to new ideas and ways of working
Has ambition and confidence to do things in new ways and to create and deliver inspirational solutions