Employer Branding
It's not just about making you stand out from the crowd. It's about defining who you are and what you stand for. That's where we start. We'll spend time finding out what makes you tick, and we'll find out what the target audience thinks. Once we've nailed down your proposition, (the thing you can offer to existing colleagues and future talent), we'll bring you to life.
After defining our strategy with you, we'll go on to develop your brand. That might be through an award-winning digital campaign, or an experiential solution or film. Either way, it'll feel like you. And it might challenge what's gone before. Because we're all focused on one thing – compelling the right people to join you, and stay.
Talk to us
The challenge?
Dstl hire the brightest minds in the country, but their better-known competitors were taking the best talent. We needed to fill 50 roles in their Cyber and Information Systems division (CIS), so we took inspiration from Dstl's employer brand and did something unexpected.
Our solution?
We came up with Counter Threat - a decision-based game. Players prioritised resources to deplete threats, just like they do at Dstl. There was also a hidden cheat code that gamers could use in their application. But how did our audience find the game? We created an inclusive social media campaign and empowering programmatic ads. And we backed everything up with a bespoke website.
And the results?
We generated 12.5k campaign clicks and 33 applications. Plus, 23 unique codes were unlocked by 'hackers' – all in 8 weeks. Plus, our unexpected solution was recognised for its excellence within the industry. We've scooped an incredible four trophies so far (and counting). Next player?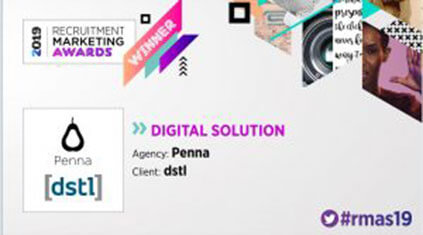 The challenge?
We needed a wider audience to understand that Aldi are so much more than a supermarket. Because they really are. They're committed to supporting communities, customers and colleagues. And, because of that, they offer so much more than a career. But how could we get this message across? And more importantly, how could we prove it?
Our solution?
By saying 'Aldi Means More'. It gave us the freedom to talk about how much more Aldi can give to a potential colleague, and how much more they'll give in return. The EVP was developed during lockdown, which was challenging but also a blessing in disguise. There were so many inspirational stories of Aldi people going above and beyond, all of which backed up what we were saying. We also proved the EVP by speaking to different Aldi people in different roles and regions. And we brought their authentic stories to life with intriguing headlines and quirky photography.
And the results?
It's early days as the new EVP was rolled out at the beginning of 2021. Since the launch, we've not lost steam. We've updated the recruitment website, created a library of new assets and run brand workshops. And we're now beginning to develop specific graduate campaigns. So it won't be long before we start seeing how 'Aldi Means More' has given us more than just great results.