A new day for executive search expert, Ben Cox, used to start with a long-distance train ride to Penna's London office. Nowadays he's securing top talent in the public sector from home in the countryside with his young family and their latest furry addition, Storm, the Labrador pup. 
Here's a day- in-the-life of Ben Cox, Director of Public Sector Executive Search here at Penna.
6:00am
It's wake-up time. It's taken my body clock most of lockdown to acclimatise to not getting up earlier to make the trip into London. I'd normally be on the train by now!
6:30am
Time to feed and then walk 'Storm', our recent black Labrador puppy addition to the family. One of the benefits of lock-down has been realising a long-held desire to get a puppy.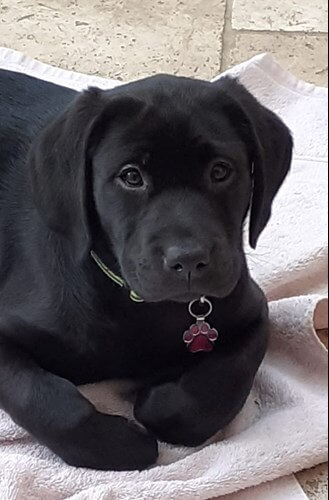 And here she is! 
It has been a fantastic thing to do as it ensures I get myself out of the house for some fresh air and affords me some time to reflect on the previous day and begin to prioritise and prepare for the day ahead. It's my thinking time!
7:00am
It's time to spark the laptop into life, eat some fruit and take some time to deal and respond to emails that have come in the previous evening and to also re-prioritise and plan for the exciting day ahead. There is never a dull moment in recruitment and often best laid plans can be thwarted with new and 'more urgent' requests, so it's important to take this time to plan. It's also time to send the daily teams message to the wider team as has become tradition during lock-down.
7:30am
With many assignments on currently, it is time to start sorting out client timetables and agreeing technical assessors for some of these roles. With everyone's diaries filling up at least a month in advance, this early administrative work and organisation is critical in ensuring processes run smoothly and dates get locked-in at the nearest opportunity!
8:00am
Variety is the spice of life as they say. It's now time to move on to reviewing and preparing for the plethora of marketing events and webinars that we intend to run and jointly facilitate with key clients and partners during 2021. At Penna we pride ourselves on these events and take a genuine interest in what is going on in the market. It takes careful planning but it's great to see just how many events/webinars/thought pieces will be delivered this year.
9:00am
Scheduled call with a good client to discuss the market for Housing Development professionals. It's a tough and competitive market for these roles but it's an enjoyable conversation nonetheless and an area where we have a track record. The issue with these roles is that they are in high demand and often public-sector salaries cannot compete with the private sector market, meaning support and advice around positioning the role is vital.
9:30am
It's now time to pull together a multiple role proposal for a client. This will take a good couple of hours as it's important to first read up on corporate plans and priorities and wear the shoes of the client to be able to pull together a bespoke proposal which reflects the genuine challenges and opportunities that the roles will present. This is why I love my job though as no client or role is the same, even if the job title would say otherwise!
During writing the proposal, there are obviously unplanned calls and requests for support from both internal colleagues and clients that have to also be dealt with.
12:00pm
Time for a quick sandwich and bag of crisps with the family before taking Storm out for another quick walk. It has to be a quick walk as she is only 3 months old and shouldn't go for long walks, but it is enough to clear the head and get some down-time too. It sure beats the previous 'Al Desko' lunches I got into the bad habit of having. Also saw the deer that frequent our communal grounds but luckily Storm decided not to chase!
1:00pm
With a clear head, it's now time to write up some technical interview reports for a client for whom I carried out interviews for last week. These write-ups are then pulled together into a shortlist pack to be sent to the client/Members ahead of the shortlist meeting on Thursday evening.
2:30pm
It's now time to get the creative juices flowing as I attempt to draft the first advert copies for a number of roles that are due to be going live over the next week or so. Thankfully, I'm not suffering from brain block and manged to send these drafts to the clients for review. It's also at this point that I need to liaise with media and my campaign coordinators, as well as the client, to look at routes to market and also deal with microsite information and builds.
4:00pm
Switch back from client work to corporate work again. It's time to start looking at weekly team capacity, performance, figures and pipeline and also what is happening elsewhere in the market. I like to keep on top of this and know what we and our competitors are up to, but also what the market is saying as this helps with planning topical thought pieces and webinars.
5:00pm
Catch up on emails as well as client and candidate calls.
6:00pm
Break for tea and then do the kids bath time.
7:00pm
Catch up on further emails and calls with clients and start to plan for tomorrow.
7:30pm
Then it's the kids' nightly book reading and bed-time, followed by watching the final episode of the Pembrokeshire Murders with a much-needed glass of red.
If you'd like to secure a private one-to-one in your diary with Ben, get in touch via email at Ben.Cox@penna.com. 
You can also follow Ben on Twitter @BenCoxPenna for more puppy updates.